It's official, the 83rd ID Association 75th Reunion is coming to Louisville, Kentucky August 3-6, 2022
Read our schedule below
We are excited to announce our 75th Reunion will be held in Louisville, KY at the Hyatt Regency downtown during our traditional time frame, the first weekend in August 3-6 so please "SAVE THE DATES". Check out the reunion article in the upcoming Thunderbolt for more details but we received an offer we couldn't refuse from the 83rd ARRTC commander, Col. Larry Thomas.
We'll get to experience a very special day at Ft. Knox from meeting our current 83rd soldiers, touring the Patton Museum, and most importantly taking part in a once in a lifetime experience unveiling the plaque honoring 83rd ID Medal of Honor Recipient, Ralph Neppel.
Of course, we will have a traditional tour day in Louisville visiting one of the world's most famous horse tracks, Churchill Downs and touring America's most famous baseball bat factory, the Louisville Slugger. Who knows maybe our bus will make a pit stop for a sip of some of Kentucky's famous liquid export, Bourbon? So, save the dates for now and your reunion registration packet will be coming in May.
Where?
Hyatt Regency Downtown, 320 W. Jefferson St. Louisville, KY 40202. This recently renovated full-service Hyatt is right smack dab in downtown Louisville within walking distance to restaurants, bourbon bars, local activities, and tourist meccas. Find all out information on the hotel and how to make your reservations by clicking on the photo below: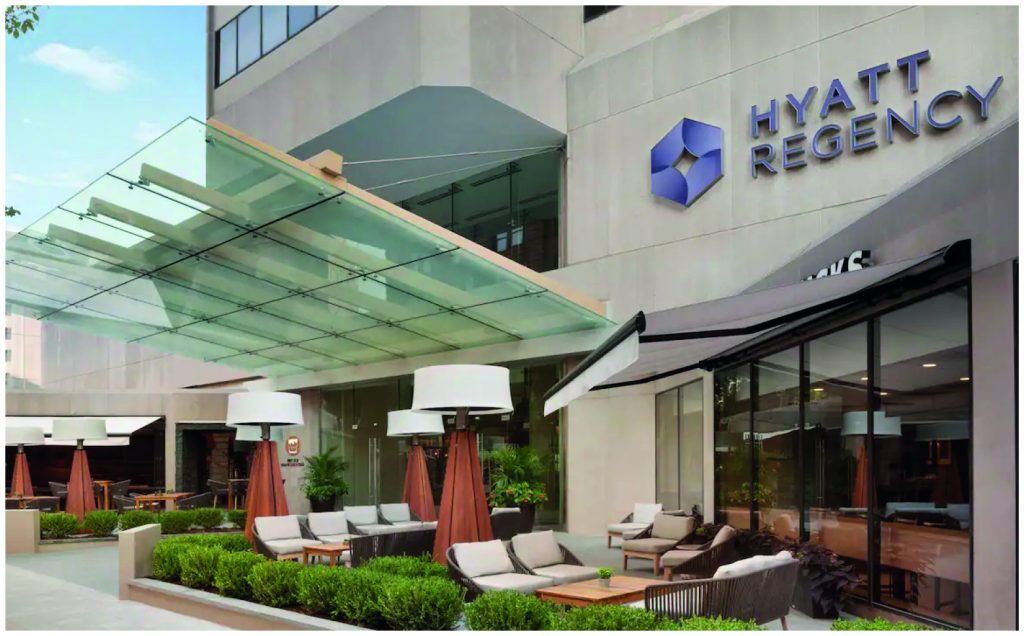 Wednesday August 3rd
We will officially kick off the reunion opening night with a casual come as you are Welcome reception with some light food and drink and one on one time to "meet & greet" new members and see old 83rd friends.
Thursday August 4th
On our local "Louisville Day" we will tour 2 icons of American sports, Churchill Downs, home of the Kentucky Derby and the Louisville Slugger Museum where the most famous Baseball bats are made. Of course, a group lunch too. For the evening, were planning an optional education/lecture session so we can learn more about the 83rd and hear from our Vets.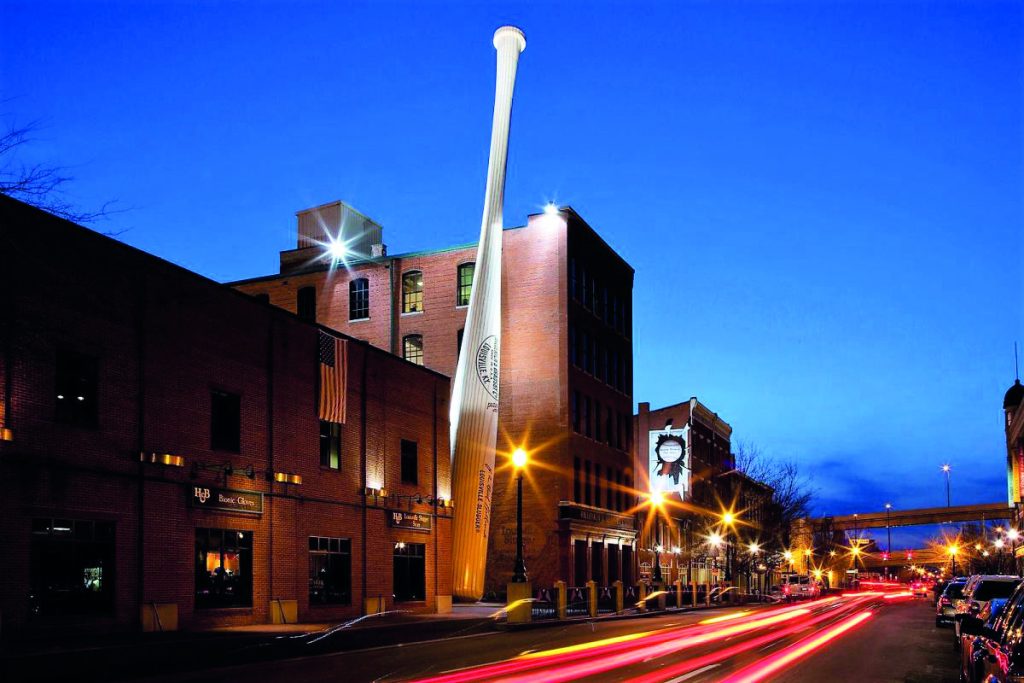 Friday August 5th
At our DC reunion last November, we were graciously and enthusiastically invited to Louisville/Ft. Knox by the new 83rd ARRTC commander, Col. Larry Thomas. Expect to experience a very special day on Friday visiting the historic Ft. Knox (is the Gold there?), meeting our current 83rd Thunderbolt soldiers and seeing how they carry on the Thunderbolt tradition in their current mission, touring the Patton Museum, and most importantly taking part in a once in a lifetime experience of commemorating the plaque honoring 83rd ID Medal of Honor Recipient, Ralph Neppel.
Friday "Fun Night"
Its back by popular demand. Hosted by Keven last year, we will host a "fun night" with an WW2/83rd inspired movie/video session and a game session with hopefully a Cornhole tourney re-match with the 83rd AARTC champions (at separate times of course). Also, by member request, for those who don't want to leave the hotel for dinner, we will offer a casual "local" group meal, so you don't have to miss any of the fun. Rumors also abound of a "photo booth" and maybe a bourbon tasting among other surprises?
Saturday August 6th
In the AM, we will have our general session conducting Association business and traditional Memorial service honoring our Veterans. In the evening, we will have our traditional Saturday night dinner banquet with cocktail happy hour.
Another valuable reason in choosing Louisville for this 75th reunion, it provides you the opportunity of visiting two important 83rd sites before or after the reunion.
Two hours north on I-65, is where it started for the 83rd in 1942, Camp Atterbury, Indiana, home for basic training. It houses a museum, outdoor memorial, the famous "rock" and small chapel built by POWs. Also, 2 hours west as the crow flies, is Camp Breckenridge, KY, with a small museum and the original USO building where our 83rd soldiers enjoyed Friday and Saturday night USO dances. To get the full picture of what your 83rd Vet experienced, consider taking these side trips.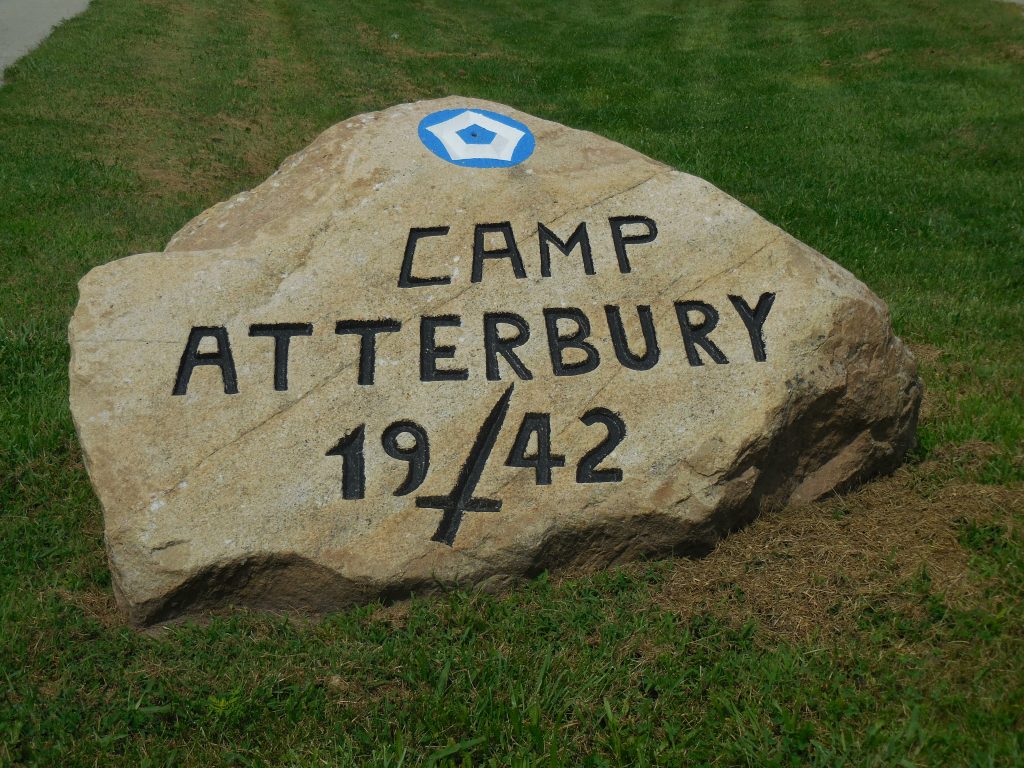 As you can see, we have a special and fun week planned for the 75th anniversary reunion and the opportunity to be hosted by the 83rd ARRTC leadership at Ft. Knox could not be missed. Please consider making this a family trip so you can share and pass on this experience to other family members and we can continue this tradition in honor of your 83rd Veteran. We enjoyed a record number of new members at the DC reunion and look forward to welcoming all our members back. Stay tuned for your reunion packet and see you in 'The Ville' or 'Derby City.'
Tom Thomason
83rd Reunion Committee