Want to become a member of the 83rd Infantry Division Association?
Click the button below to fill out our online application form and join today!
Read below the Uncle Sam poster to find all information on membership types, dues amount and learn how your contribution helps us achieve our mission. Want to know how you will benefit?
Click here.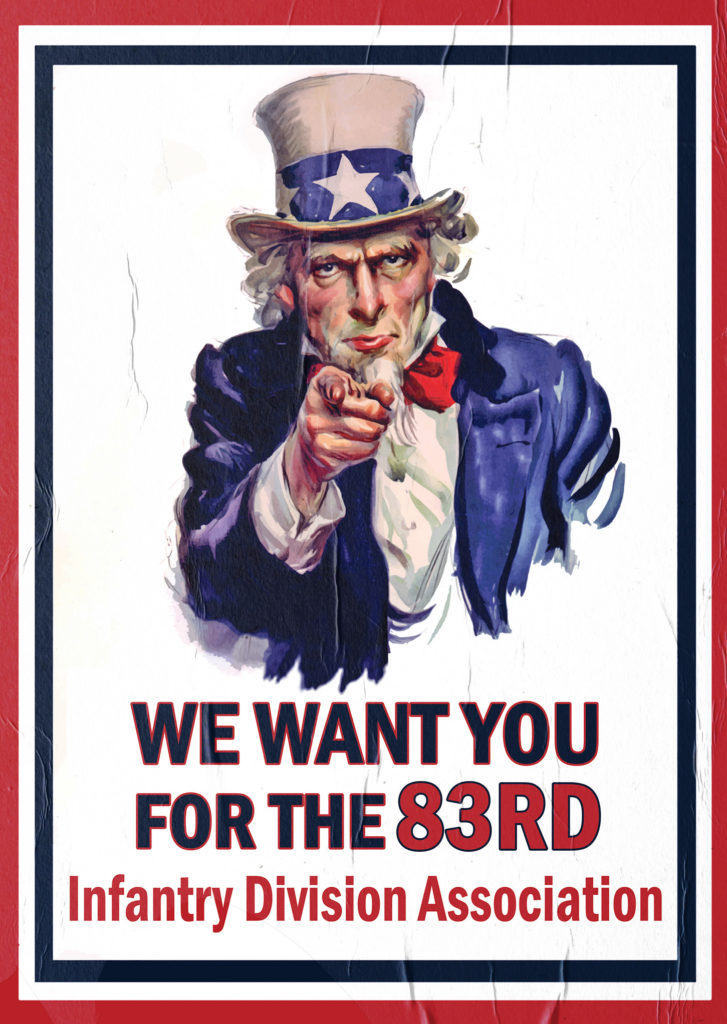 A Special message
The 83rd Infantry Division Association has expanded eligibility for Legacy Membership. We have also introduced a new category – "Active Duty Membership" for those currently serving in the 83rd Army Reserve Readiness Training Center (ARRTC).
Who can join?
Regular Member: Any person who was assigned to the 83rd Infantry Division between August 8, 1942, to and including April 30, 1946 or was assigned to the 83rd ARCOM or 83rd ARRTC
Legacy Member:
All current spouses, widows, and widowers of those eligible to be a Regular Member
lineal descendants by birth or adoption to include sons, daughters, grandchildren, and great-grandchildren of persons living or deceased who are (were) eligible for Regular Membership and current spouses
collateral descendants by blood or marriage to include nephews, nieces, grand nephews and nieces of Members, great grand nephews and nieces, current spouses and surviving widows.
Active Duty Member: Any active duty members of the 83rd ARRTC
Associate Member: Any person who has expressed an interest in the Association other than for commercial or personal monetary gain, but who does not qualify for any other type of membership classification.
For the Association to continue to thrive as a national organization, to continue to honor our veterans, and to continue to preserve and promote the 83rd's historical legacy for future generations, we must continue to grow.
How will we do that?
Our veterans' stories, their buddies' stories, must become our families' stories – the daily physical danger and hardships, the seemingly impossible odds of surviving combat, the liberation of countless villages and towns … a concentration camp — all of it, the unvarnished reality of war.
And to become our families' stories, we have to share them with our families – spouses, our brothers and sisters, grandchildren and great grandchildren, grand nephews and grand nieces. We firmly believe that the Association can serve as a catalyst by reaching out to all Legacy candidates to join us – starting with our own family members.
Dues & payment options
2023 Membership Dues (2024 dues year begins Aug 1)
Basic Regular, Legacy, and Associate Membership $40

Additional Family Members $20

Active Duty 83rd ARRTC members $20
3-year Regular, Legacy, and Associate Membership $100

3- year Additional Family Members $50
3-year memberships provide the Association with additional financial stability as we move forward with our plan to preserve the proud legacy of the 83rd for future generations..
All the benefits of membership are listed in this overview. But the greatest single benefit is preserving and sharing the legacy of all the proud members of the 83rd Infantry Division and its attached and successor units. As a current Association Member, we thank you for the loyalty and faith you have shown by maintaining your membership.
---